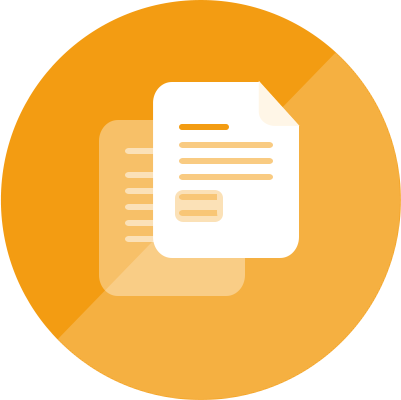 Click & Collect
One click imports all your existing references (and annotations). One click drags full-text articles into Flow — and enters the reference metadata for you. One click saves references and documents from anywhere on the web (including from behind paywalls).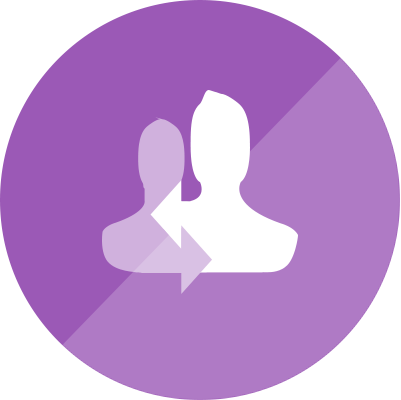 Frictionless Collaboration
Share readings and collaborate with up to 10 people for free. Review articles with your peers — or your professors. Jointly annotate documents with members of your research group. Collaborate on papers with researchers from any institution, anywhere in the world.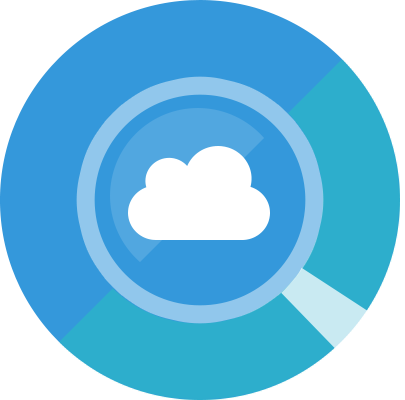 Research Anywhere
Since Flow is cloud-based, there's no software to install or update. You can access your research instantly on any device. And when it comes to writing, Flow for Word for Word and Google Docs syncs with your library so you can cite right in your document.
---
Features
See what makes Flow the only reference and document manager you need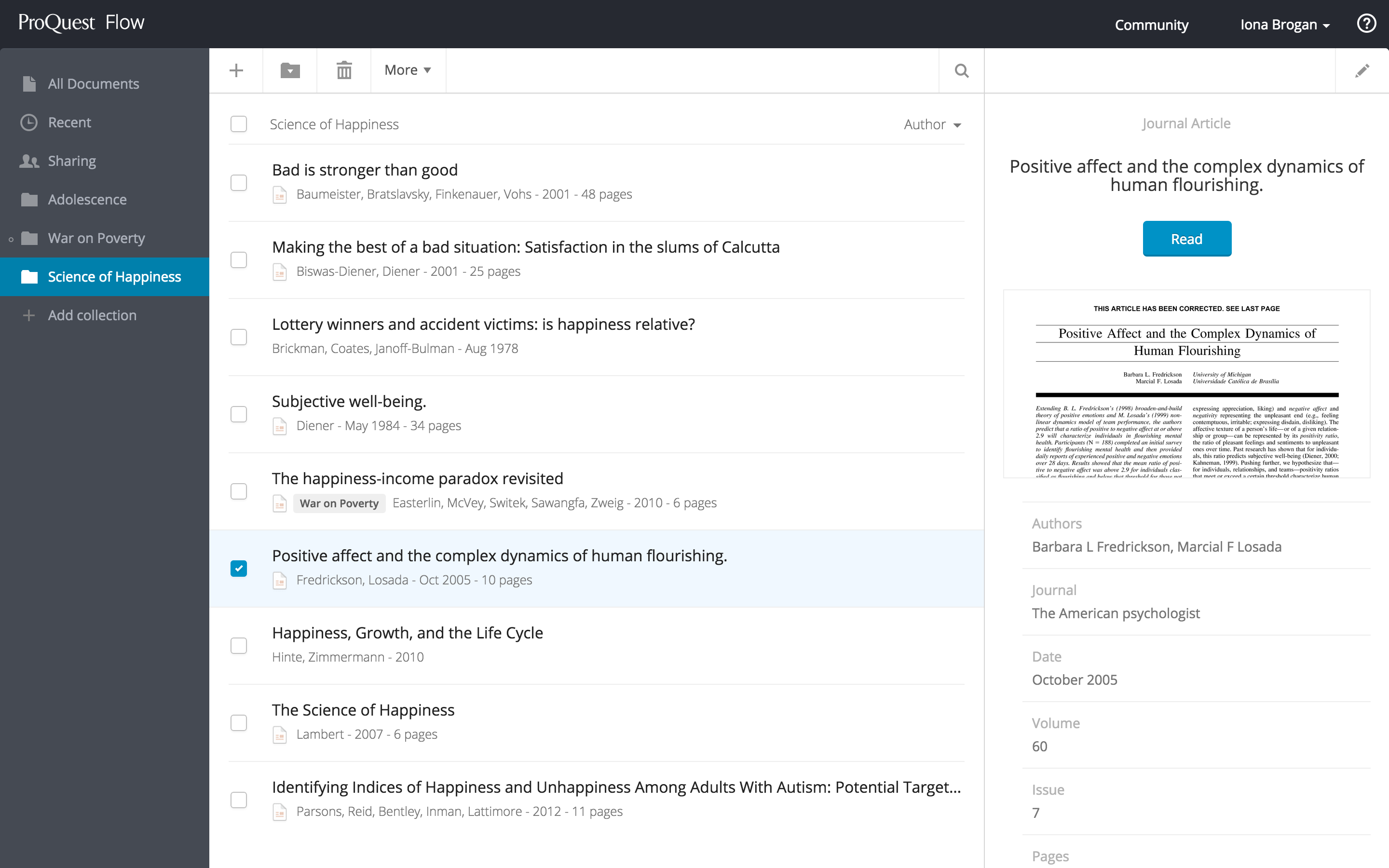 ---
Collect with a Click
The "Save to Flow" button captures metadata and full text from many major databases and websites and adds them to your library. Research has never been this simple.
Collaborate and Listen
Share collections privately with up to 10 people for free, inside or outside your institution. Manage access rights to allow selected team members to contribute and add comments to shared collections.
Read & Respond
Whether you're grading essays, preparing your prospectus, or researching your next article, you can use our built-in reader to peruse, highlight, and annotate your documents right in the browser window.
Free Personal Plans
Our free personal plans include unlimited references, collection sharing, and a whopping 2GB of storage! And when you just can't get enough Flow, upgrade to Premium for up to 25 collaborators and 10GB of space.
Look Mom, No Hands!
Flow automatically enters metadata for the majority of documents, leaving your hands free to send an email, make dinner, or text your mom. And if it doesn't, well, there's always autocomplete.
Write, Cite, Go
Flow for Word is the most powerful reference tool for both Microsoft Word and Google Docs. It automatically updates your citations, linking to your Flow library from within Word. That's time (and sanity) saved.
Hassle-Free Switching
Still using Mendeley, Zotero or another reference manager? We won't judge. But just so you know: Flow imports existing libraries (and full text documents) with just a couple of clicks.
Flow ♥ Dropbox
One little click initiates ongoing conversation between your Flow library and Dropbox. Now you can read all your research documents even without wifi — Flow can go wherever you are.
Duplicates, Begone!
Flow automatically detects your duplicate references and helps clean them up. It's even smart enough to suggest you keep the most useful versions — those with full text, more metadata, or annotations.
Intuitive Design
Our intuitive design makes getting started a cinch. No need to watch videos or wade through pages of documentation first (although we've got those too!). Flow works to simplify your workflow.
Search Everywhere
No need to spend time assigning keywords to your documents: our comprehensive search tool rakes through metadata, annotations, and full text document to provide instant, relevancy ranked results.
So Stylish
Supports all of the 3000+ RefWorks citation styles — the most solid ones around.
Flow for Institutions and Companies
Organizing research workflow for academic, corporate, and government libraries and information centers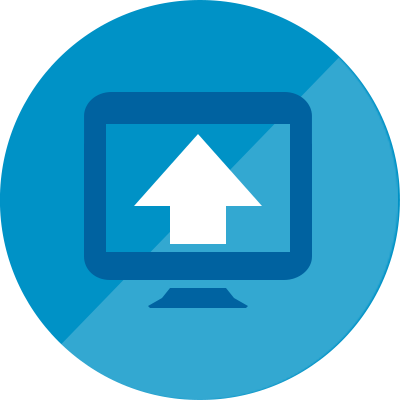 The best of RefWorks
The latest from the team that delivered RefWorks, the innovators of reference management for more than a decade. Over 1,200 organizations know and trust us to provide market-leading quality and depth in reference management to researchers and students alike. The latest Flow takes that to a whole new level – bringing the full research document management process online, embracing an all-digital workflow.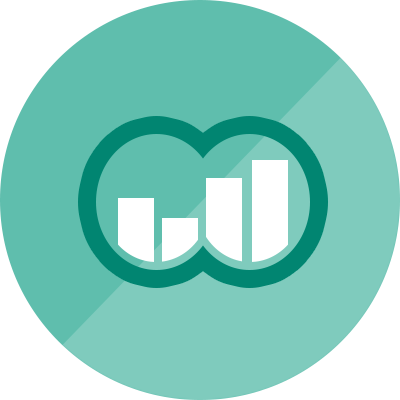 Prove your library's value
Flow provides your organization with detailed insights into content usage. Not just what articles were searched for or downloaded, but which are actually used in forthcoming research work. Understanding exactly what research materials are most valuable helps the library develop collections and improve its impact. There is no better way to measure the relevancy of your content subscriptions.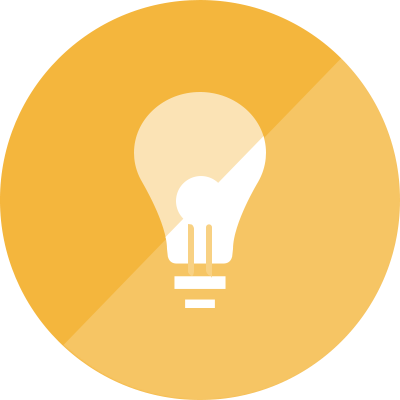 A seamless portfolio
Apart from its robust functionality and secure infrastructure, Flow is pivotal within the ProQuest family of products. ProQuest can deliver any mix of technologies to produce a suite of research tools to ensure that your researchers can accomplish all of their research tasks within one comprehensive ecosystem. The exclusive integration across our solutions deliver greater efficiency and a positive patron experience within one integrated research workflow.
---
Now available to institutions and companies
Find out how to get started with Flow
---
Easy to manage, yet powerful to use
All levels of users can easily start using Flow without installing anything – a big help for your IT department and little to no administrative effort for the library. Also, your users can create their own accounts, saving you valuable time.
Advanced usage & research analytics
Utilize insight for collection development; know what users are researching and what provides value to them. Libraries have now come to expect an easy way to demonstrate value, these analytics allows the library to improve their value to their patrons and the university.
Respectful of copyrighted materials
Flow is respectful of publisher copyright by offering embedded full text controls that do not facilitate the distribution of full text to large groups and anonymous, public shares of full text.
Built to support the needs of all researchers
With an institutional subscription, all users at your organization can get full access to the best research workflow tool – plus end user features they can't get otherwise, such as institution-wide shares, unlimited collaboration, additional storage space, and much more.
| | Flow | Mendeley | Zotero | EndNote |
| --- | --- | --- | --- | --- |
| Individual user PDF storage limit | 10GB included | 5GB included | 300MB free | 5GB |
| Manage users at institution | | | | |
| Manage Institutional Administrators | | | | |
| Invite users by email address | | | | |
| Easily invite groups of users | | | | |
| Search users by email address | | | | |
| Manage institutional link resolver | | | | |
| Analytics: Top Publications Added | | | | |
| Analytics: Application Usage | | | | |
| Analytics: Filter report by timeframe | | | | |
| Download analytics reports as CSV | | | | |
| Custom library sponsor text in header | | | | |
| World-class support | | | | |
| Premium accounts for all users at your institution | | | | |
Now available to institutions and companies
Find out how to get started with Flow
A plan for every need
You'll be up and running in less than a minute
Personal Plan
No cost to individuals
2GB Document storage
Share collections with 10 people
Online Community Support
Learn more about ProQuest Flow
Tell us a little bit about you and we'd love to tell you all about Flow!
Thank You!
We will get in touch with you as soon as we can.